AYURVEDIC CURE & WELLNESS YOGA at LA CLE DE SOL, in MARSAZ (DRÔME)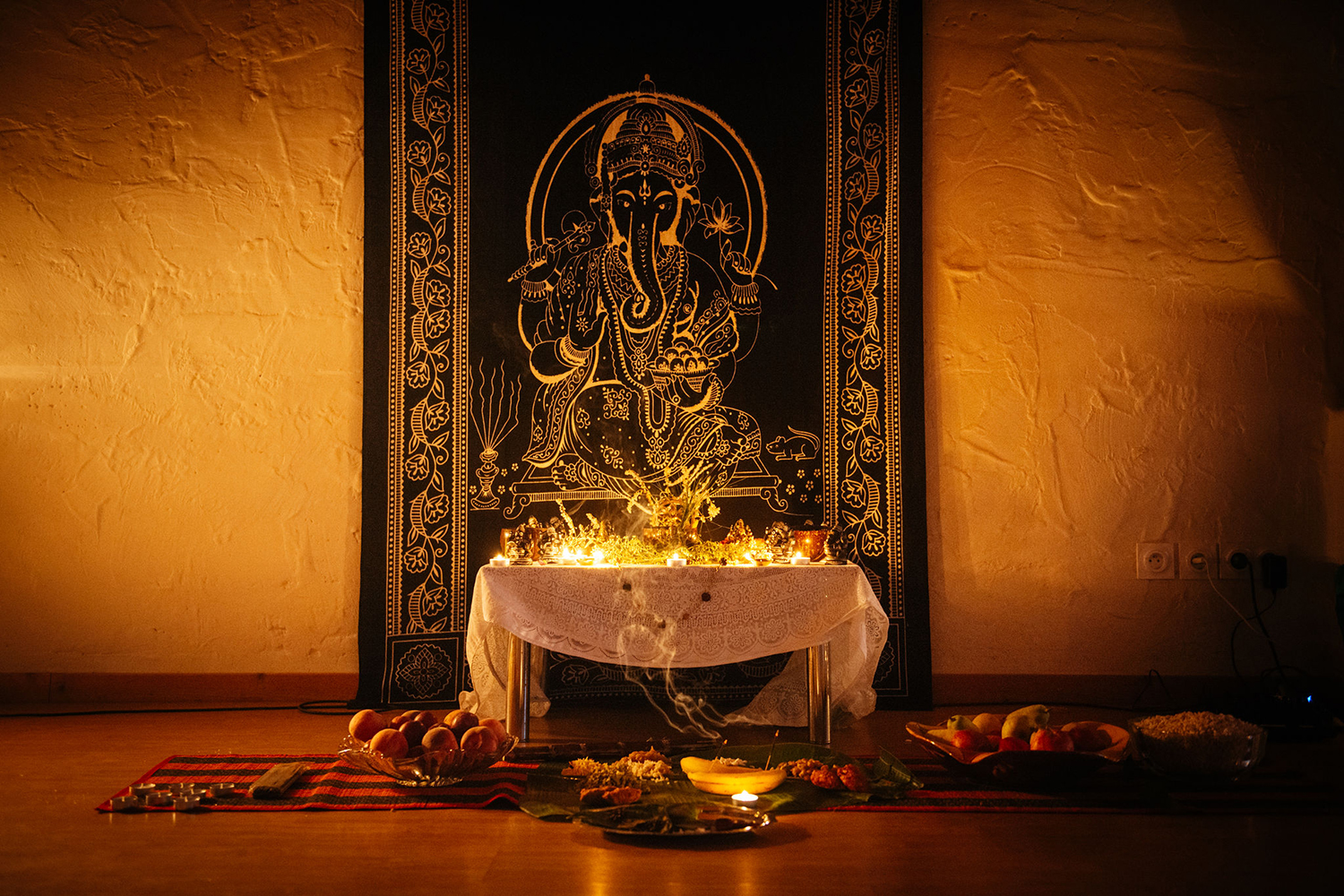 From 15th to 22nd of May, 2022
The members of Yoga Tree invites you to join them, for an Ayurveda and Yoga cure in Drôme.
Ayurveda is an ancient healing science and lifestyle that, through detoxification and cleansing programs, massage therapy, and herbal remedies, prevents and treats disease. His great wisdom teaches us to heal the body and to live in balance with ourselves and the outside world.
This year we are offering you a new intensive 7 day retreat, where you will be surrounded by experienced Ayurvedic doctors and therapists from India.
Participants will enjoy a personalized treatment protocol based on their energy profile, including a daily Abhyanga and Kizhi massage, Sirodhara oil therapy and an Ayurvedic meal plan tailored to each individual.
A program around a practice of Yoga adapted for each (e), will also be proposed to you in a second step. It will be based on the Panch Kosha, Pancha meaning "five" and Kosha, "scabbard".
To understand this term, you have to know that there are 5 layers of consciousness through which all experience is filtered:
Annamaye Kosh or physical sheath
Pranamaye Kosh or vital air sheath
Manomayh Kosh or mental sheath
Viganamayh Kosh or intellectual sheath
Anandamaya Kosh or sheath of bliss.
These different layers can be stimulated and strengthened through daily practice of Pranayama and meditation, particularly working on Dhyan, Dharana and Pratyahar.
We will welcome you to the Clé de Sol domain in the Drôme countryside surrounded by beautiful trees with great energy, a landscape of soft and green hills with, in the background, the nearby Vercors. Near forests and ponds for rejuvenating walks.
Open to everyone, it will above all be an opportunity to take a break, to reconnect with nature, to reconnect with yourself, in a peaceful and inspiring environment, under the benevolent protection of the Drome mountains.
During the retreat, the meals served will be vegetarians, vegans and sattwic: a diet that detoxifies, cleanses and purifies the body while strengthening the immune defenses, prepared in the pure Ayurvedic tradition by our Indian chef. They will give you a harmonious feeling of well-being and balance, both in body and in mind.
(Spice stand and Indian handicrafts (carpet, copper gourd, accessories, etc.)
YOUR PROFESSORS
Dr SATIS KUMAR
"I was born in Kerala and obtained my BA in Ayurvedic Medicine and Surgery from the University of Kerala in 1989. I am registered as a practitioner under the Travancore-Cochin Act of 26-2-1990 .
I practiced for two years at Triveni Nursing Nursing Home, one of the main hospitals in Trivandrum, Kerala. For 25 years, I ran the Ayur Health Care Center in Kowdiar. Subsequently, I practiced abroad, in Oman (South Muscat Clinic).
I got involved in the Vellaï Thamaraï association to train groups of students from all over the world. "
The program :
– An individual consultation to define your constitution in Ayurveda (prakriti and nadi pareeksha).
– 3 themed workshops:
The involvement of Ayurveda in the modern world.
Impact of antagonistic food on the different Ayurvedic constitutions (vata, pita, kapha).
An Ayurvedic cooking workshop: the medicinal role of spices.
HAMSACHARYA SUBRAMONI MAHESH
"I was born in India, in Kerala; I then grew up in New Delhi. Sportsman from a young age, I see myself above all as a walker and a researcher, who likes to spend long hours alone observing the beauty of Nature and through it, the different elements of the Universe.
I am a faithful disciple of Yogiraj Satgurunath Siddhanath with whom I have been initiated into the science of Kundalini Kriya Yoga. After 7 years of regular practice and several internships led by Yogiraj himself, I take the courses to become a teacher at the Siddhanath Forest ashram in Pune, in 2011. This training makes me a Hamsa Acharya who can transmit the techniques given by the master, those of Surya Yoga and Kundalini Kriya Yoga."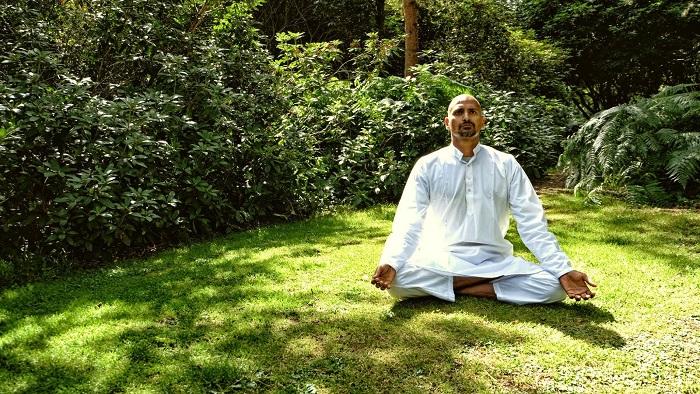 The program :
– Siddhanath Surya yoga – Activation of body cells with solar energy.
Asana practice – Hatha yoga (Postures)
Full Moon Session – Earth Siddhanath Peace Meditation, Moon Salutation
Bhakti yoga: chanting and chanting of mantras
Siddhanath Hamsa Meditations – Golden Lotus Siddhanath – Yoga nidra – Deep Relaxation Sessions
Dhyan Dharana: concentration leading to meditation: a deepening session with mudras
SAHEER PARALATH  
Director of the "Franco Indian Ayur Center" in Pondicherry, India.
He is a professional Ayurvedic therapist and practical teacher with over 15 years of experience in various Ayurvedic therapies including massage, treatment and preparation of herbal oils and medicines according to traditional natural customs.
Born and raised in a small village in the southwest of the state of Kerala, India, Saheer grew up surrounded by nature. From an early age he was inspired by work at a nearby hospital where he helped local people collect medicinal leaves, plants and roots to make Ayurvedic medicinal oils and powders.
Curious about the power held by these plants, at the age of 16 he began training with Masters in the field, and witnessed the healing properties of Ayurvedic practices by seeing paralyzed patients start to walk after a few weeks. treatment. After seeing the joy of people whose lives were touched by this healing treatment, he devoted himself fully to further learning Ayurvedic therapies including Ayurvedic nursing, Panchakarma massage and therapy, Kalari marma treatment. and possibly practical teaching. He is now passing on the knowledge that enriched his life to countless patients and students in India and around the world.
ARUN KALAHASTI
Originally from Pondicherry, Arun is the founder and director of the Yoga Tree Retreat association, based in Paris.
Hatha Yoga and Vinyasa Yoga teacher, Ayurvedic massage practitioner, mixing different techniques such as abhyanga and marma point massage (vital energy points) to deliver a complete cure. He has been organizing Yoga and Ayurveda retreats in France and India for 5 years, with his team which includes Ayurvedic medicine professionals, Ayurvedic therapists, Yoga teachers…
He personally gives individual yoga classes and massage sessions for anyone who requests them.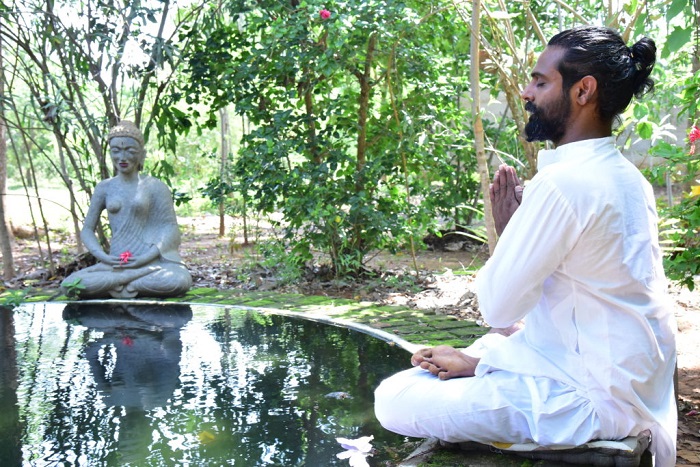 AYURVEDIC FOOD

Throughout the retreat, the meals served are vegetarian, vegan and sattvic: a diet that detoxifies, cleanses and purifies the body while strengthening our immune defenses.
Local products are chosen according to the seasons.
The food is prepared in the pure Ayurvedic tradition by our Indian chef and will give you a harmonious feeling of well-being and overall balance of body and mind.
The link between what you ingest and your state of physical and mental health is one of the keys to this retreat and will certainly become obvious to you.
LANGUAGES
French / English
PRICES
EARLY SUNRISE BOOKING until April 17.
ALL INCLUSIVE CURE (except transport)
Accommodation in a dormitory with 8 single beds at a rate of € 1,250 instead of € 1,325 per person after April 17, 2022.
In a room for 2 people, 2 single beds, at the rate of € 1,300 instead of € 1,375 per person after April 17, 2022.
In a double bed room, for a couple at a rate of 2400 €.

in a single room at the rate of € 1,650 instead of € 1,750 after April 17, 2022.
Participants have the option of paying in instalments (up to 4 instalments).
The first payment, of 400 euros (per person), will be made upon booking.
After April 15, 2022, cancellation fees will be requested (60% of the amount paid, i.e. 240 euros, per person).
INCLUDED
Individual consultation
7 days of Ayurvedic treatment (every day between 1 hour and 1 hour 30 minutes of treatment)
2 vegetarian and Ayurvedic meals per day (lunch and dinner)
Tea and fruit at will during the day.
Accommodation
Yoga (2h30 per day)
Ayurvedic workshops
Yoga Workshops
NOT INCLUDED
Transportation to the place of retirement
Laundry during retirement
The yoga mat is symbolically your personal practice space. Everyone will therefore be asked to bring their own mat.
REGISTRATION CLOSING DATE
We close the registration the April 30th 2022.
GENERAL INFORMATIONS
Ayurvedic advice and care is not medical and is not intended to replace medical treatment.
It is not recommended to come for treatment if you have a fever, cold, flu-like condition and serious infection.
The health protocols in force will be respected and strongly encouraged.
JOIN US
La Clé de Sol  
1145 chemin des Marais
26260 Marsaz