Prana Yoga – Rejuvenation Retreat
4 January 2020

-

12 January 2020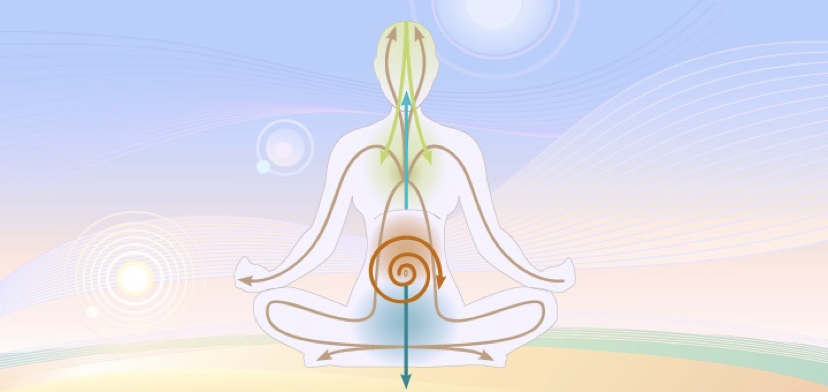 From 4th to 12th January 2020
What is Prana yoga Retreat ?
Prana Yoga Retreat is a gift to rejuvenate one's body-mind-essence with 9 days of learning and practicing yoga, pranayama, meditations, healthy food, traveling and experiencing sacred energetic spaces inside and outside. It happens in a conducive space of private villa amidst nature with swimming pool in south India nearby eco-friendly community of Auroville.
Why Prana yoga ?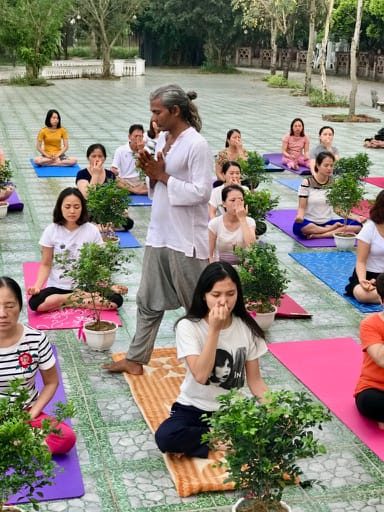 Prana is the universal life energy. Mostly breathing and energy flow happens unconsciously as part of survival process. Prana yoga is becoming conscious and aware of prana – enhancing, directing, transforming, healing and mastering the energy flow in the body-mind-essence.
Modern times, people know how to recharge their mobile phones and even carry extra battery packs. But, recharging one's own energy level is forgotten art and science. Or some people have more energy and don't know how to use it and throw out in many unwise ways and sick/ out of tune with life.
Or simple people are seeking to deepen the meaning of life and self-realisation.
Through Prana yoga, we can rejuvenate the body-mind-energy, enhance sensitivity and perception, expand inner awareness, open the door to higher states of consciousness, feel the interconnection with universal life energy. It nourishes to flower one's full potential and support self-realisation.
What we learn and experience in this retreat ?
In this 9-day retreat, we welcome you to Learn, Practice and Experience …
Preparatory exercises and key asanas for whole body & spine
Inner Science of Body-Mind-Energy: Nadi, Vayu, Chakra, Mudras, Bandhas
Awareness exercises, Basic & Advanced pranayama practices
Detox, energize, transform, meditate, evolve & discover self
Kapalabhati, Nadi Shuddhi, Ujjayi, Shitali, Ashwini Mudra, Vajroli Mudra, Moola bandha, Kumbhaka, Mahabandha, etc.
Chakra awareness, Yoga Nidra, Nada Yoga, Mantra Singing & Meditations
Therapeutic practices for specific health conditions
Daily dose of Healthy pranic food rejuvenating body-mind-essence
Special coaching on pranic food and its preparation using herbs & vegetables
Visit and experience high energy spaces [Siddha temples, Ramanashram, etc..]
Who can join this retreat?
This retreat is for:
Anyone who can breathe and move 😉
Anyone who is seeking for new learnings, healings, deeper experiences in life
Anyone who wants to rejuvenate
Anyone who want to be alive with peace, health, love, freedom & bliss in life.
Do I need to know yogasana with flexilibility to learn this ?
If you are have at least one posture comfortable and stable, its good enough for prana yoga. We will start with practice preparatory exercises to keep and body flexible and energy open before expanding further prana yoga practices. Even if you already have regular practice of yogasana or sports, it will be added advantage to go deeper.
Is it unnatural to control breath ?
Pranayama is not about controlling the breath but to observe, understand, support and enhance the natural process of breath and life energy. With observation, we can find that breath and prana gets disturbed through our thoughts and emotions unconsciously and create toxins/disease/ blocks in our system. Through Prana yoga practice, we become aware, help detox, unblock and support energy flow into natural states.
Is it safe practice ?
Yes, these are natural and safe practices. You will be guided with right information on when to use what and how much to use for advanced practices.
Is it belief based religious practice ?
It's a scientific process based on natural design of our physical and energetic system. Its self-discovering and experiential process. Nothing to believe or follow blindly/ religiously.
Does it conflict with my medical condition and treatment ?
Whatever medical condition or treatment someone is going through, prana yoga helps to enhance the energy levels and speeds up the healing process. Case by case, if anything not suitable will be explained.
Can I join with my family members?
Sure, you can come with any of your family member.
But, focus on your inner journey and give space for your family member to discover their own without any intrusion
What should I bring ?
Apart from your daily care essentials, loose clothing, white clothing (for specific meditations) also bring your channel of creativity like music, dancing, singing, writing, handicraft, painting, …
What's the schedule ?
Typical schedule will start with yoga/meditation activity in the morning and will complete with sensitive space in the late evenings with enough time for rest, socializing and relaxation with nature. There will be some surprising sessions and gifts every day.
Early sunrise booking until September 17th.
SINGING PERSON
945 € /1175 € (after September 17th) shared room for the retreat (2 people)
COUPLE
1799 € /1899 € (after the 17th of September)
SINGLE ROOM for the whole Retreat
1175 € / 1275 € (after the 17th of September)
Included in this retreat:
Yoga
Pranayama
Accommodation (Room share by two people)
Temple visit thiruvannamalai, Ramanashram.
Massage one hour person
Two meals per day: vegetarian and vegan, ayurvedic (breakfast, dinner)
Electric bicycle
Ayurvedic cooking lesson
Visit of Auroville
Not included:
Air ticket
Additional activities
Personal expenses
Extra drinks and snacks
Health insurance
Medical treatments
Laundry
Visa
Skill level
Beginners
Intermediate
Advanced
Your place for this retreat will be reserved after deposit payment of a 450€
Airport transfer available:
Chennai International Airport (35€per person)
Our teacher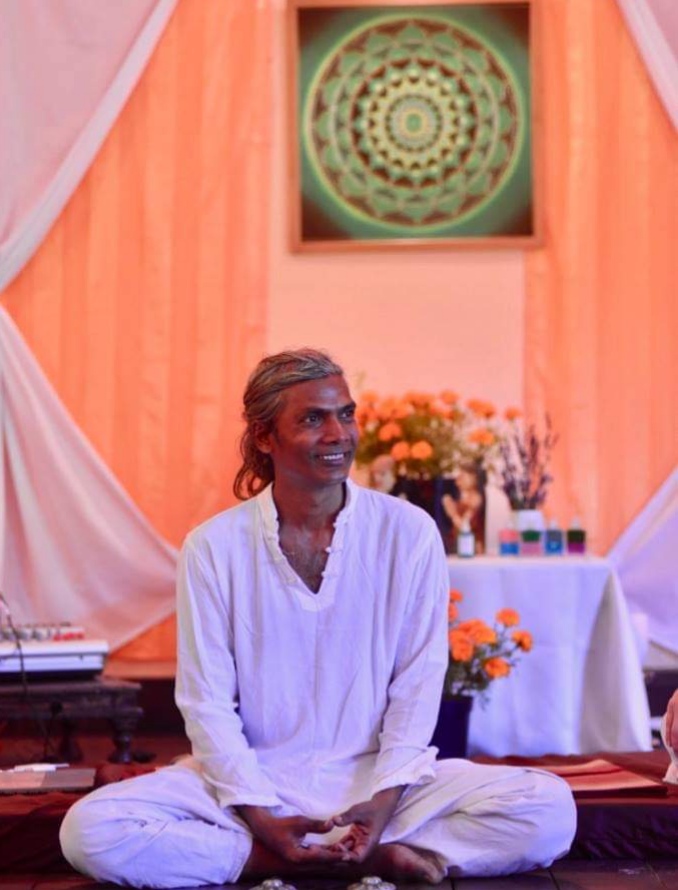 Introducing Ananda Kumar, a meditator living, teaching and healing with inner essence through body, mind, emotions and energy using transforming tools of Yoga, Tantra & Inner Science!
Some mystical experiences and further quest propelled to travel inside and outside to explore various forms of yoga, meditations, healings and energetic spaces over 22 years.Sharing healing sessions over 12 years, professionally trained with international certifications for various forms of healing through body, mind, emotions and energy (Watsu, Aqua wellness, Foot Reflexology, Hypnotherapy, Alchemy of Touch – Rebalancing) from key teachers in conscious communities of Osho and Auroville.
Sharing retreats and trainings over 8 years leaving behind software architect profession for full time heartful sharing across India, Vietnam & Europe. Reminding people to live with essence of love and freedom inside and outside.